After a three-year pandemic-induced hiatus, the Indian Institute of Management Ahmedabad (IIMA), a premier global management Institute, renewed the renowned IIMA – SRK Lecture Series with a lecture by Professor Marianne Bertrand, the Chris P. Dialynas Distinguished Service Professor of Economics at the University of Chicago, on "Gender, Stereotypes, and Inequality" on campus recently.
Professor Bertrandwas speaking at the fifth edition of the annual IIMA-SRK Lecture Series, which is a collaborative effort undertaken by IIMA and the Shree Ramkrishna Knowledge Foundation (SRKF). The lecture series is sponsored by SRKF and has been instituted with the objective of strengthening collaboration between industry and academia to create, nurture and disseminate knowledge in the education sector.
Introducing Professor Bertrand to the audience,Professor Errol D'Souza, Director, IIMA said, "We are delighted and thankful to the SRK group for partnering with us to institute this lecture series and helping us support discussions on subjects of global interest every year. For all of us here at the Institute, it is an occasion to commemorate as we have amongst us Professor Marianne Bertrand – an economist so accomplished and recognised – here with us to deliver a lecture on a topic which is of great contemporary interest in India as well as the different parts of the world."
Professor Bertrand opened her lecture with an overview of work from a gender perspective, spoke about stereotypes and elaborated on the inequality rising from it across the globe. She synthesized several of the studies based in North America, Europe and Middle East and North America and gave examples of how cognitive, socio-cultural, and economic factors impact the participation of women in the workforce. She touched upon several aspects of gender inequality such as pay gap, under representation of women in sectors such as STEM and top management, the impact on motherhood on their earnings, perceptions around women being more risk averse as compared to men. Based on the data that she had analyzed, Professor Bertrand shared that these issues were multi-factorial and that a multi-dimensional approach that addresses socio-cultural, economic and academic challenges had to be designed.
Marianne Bertrand is the Chris P. Dialynas Distinguished Service Professor of Economics at theUniversity of Chicago Booth School of Business. She is a Research Fellow at the NationalBureau of Economic Research, the Center for Economic Policy Research, and the Institute forthe Study of Labor.She has received several awards and honors, including the 2004 Elaine Bennett ResearchPrize, awarded by the American Economic Association to recognize and honor outstandingresearch in any field of economics by a woman at the beginning of her career, and the 2012Society of Labor Economists' Rosen Prize for Outstanding Contributions to Labor Economics.She is a Fellow of the American Academy of Arts and Sciences and of the Econometric Society.She was elected to the National Academy of Sciences in 2021.
The lecture was attended by Mr Kamlesh Yagnik, President, SRK Knowledge Foundation; Dr Nirav Mandir, Chief Human Capital Officer, Shree Ram Krishna Exports Pvt. Ltd; faculty membersand students of IIMA.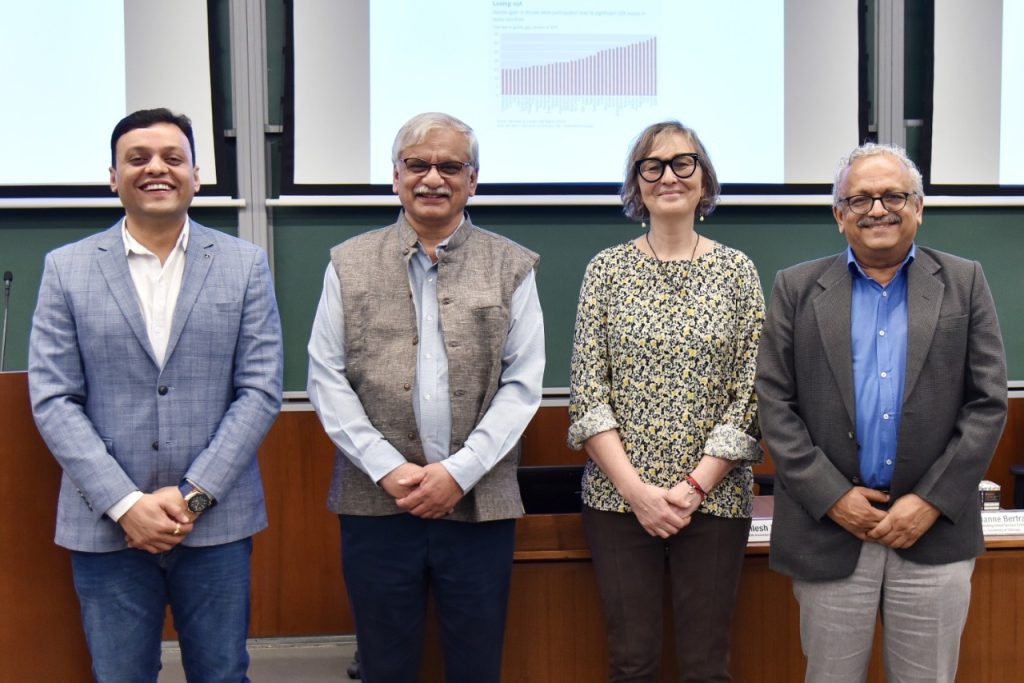 (Left to right)Dr. Nirav Mandir, Chief Human Capital Officer; Prof Errol D'Souza, Director, IIMA; Prof Marianne Bertrand, the Chris P. Dialynas Distinguished Service Professor of Economics at the University of Chicago; Mr. Kamlesh Yagnik, President, SRK Knowledge Foundation.
About IIM Ahmedabad
The Indian Institute of Management Ahmedabad (IIMA) is a premier, global management Institute that is at the forefront of promoting excellence in the field of management education. Over the 60 years of its existence, it has been acknowledged for its exemplary contributions to scholarship, practice and policy through its distinctive teaching, high-quality research, nurturing future leaders, supporting industry, Government, social enterprise and creating a progressive impact on society.
IIMA was founded as an innovative initiative by the Government, industry and international academia in 1961. Since then, it has been consolidating its global footprint, and today it has a network with over 80 top international institutions and a presence in Dubai. Its eminent faculty members and close to 40,000 alumni, who are at the helm of influential positions in all walks of life, also contribute to its global recognition.
Over the years, IIMA's academically superior, market-driven, and socially impactful programmes, have earned a high reputation and acclaim globally. It became the first Indian institution to receive international accreditation from EQUIS. The renowned flagship two-year Post-Graduate Programme in Management (PGP) is ranked 26th in the FT master's in management Ranking 2021, and the one-year Post Graduate Programme in Management for Executives (PGPX) has been ranked 62nd in the FT Global MBA rankings 2022. The institute also is placed first in the Government of India's National Institutional Ranking Framework (NIRF), India Rankings 2022. IIMA offers consultancy services and more than 200 curated executive education programmes in customized, blended, and open enrolment formats for a diverse audience comprising of business leaders, policymakers, industry professionals, academicians, government officials, armed forces personnel, agri-business and other niche sector specialists and entrepreneurs.