The Indian Institute of Technology Gandhinagar (IITGN) is back with the third edition of the much-awaited Invention Factory® India.
Invention Factory® India is a one of its kind intensive summer programme in inventing in which the selected students from IITs across the country conceive an invention, prototype it, pitch it, write and file the US as well as Indian provisional patent applications for their invention; all within a duration of six weeks and one week of orientation.
This time 20 students from 10 different IITs, including IIT Bombay, IIT Delhi, IIT (ISM) Dhanbad, IIT Gandhinagar, IIT Goa, IIT Guwahati, IIT Kanpur, IIT Kharagpur, IIT Madras, and IIT Roorkee, have been selected for the Invention Factory® India.
After the initial technical training and orientation week, these students will be working as a team of two to conceive, prototype, and pitch inventions that address a particular societal or consumer need. Their ideas and inventions will be evaluated on a weekly basis by an illustrious panel of judges from different walks of life.
Ultimately, all the ten teams will compete to win the first prize of Rs 2 Lakhs, second prize of Rs 1 Lakh, and third prize of Rs 50,000 for creating the "Best Invention", "Second Best Invention", and "Third Best Invention" respectively.
IIT Gandhinagar Professors Nithin George, Madhu Vadali, and Jaichander Swaminathan will be mentoring the participants during the programme. The students will also get mentorship from the founders of the original program in the US, Cooper Union Professors Alan Wolf and Eric Lima.
Throwing more light on the idea of this intensive programme that also gives impetus to the "Make in India" movement, Prof Nithin George, TEOCO Chair Associate Professor of Electrical Engineering at IITGN and Chairperson of the Invention Factory® India, said, "Through this programme, we want to inculcate the practice of inventing and out of the box thinking among young minds so that they start thinking towards finding effective solutions to various day-to-day challenges faced by society.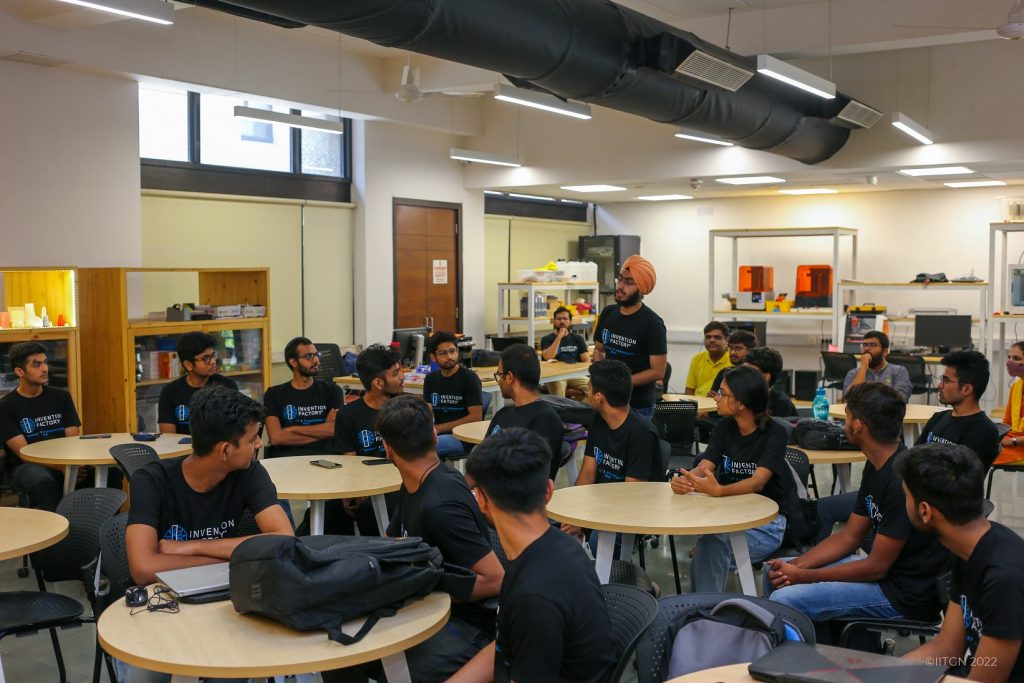 Along the way, they also hone their communication and presentation skills and team working attitude, which would help them throughout their careers. We all are excited to see the inventions by students from this edition of Invention Factory® India."
The selected students for the programme are provided free hostel lodging and meals for the entire period. Each team will receive a budget of up to Rs 50,000 for materials to design the invention prototype. They will work in the newly set-up 'Maker Bhavan' at IITGN; and will have access to laser cutters, 3D printers, machine shops and machinists. All participants who complete the programme will also receive a stipend of Rs 10,000 with a certificate of participation.
Sharing her excitement, Deepika Putta, one of the student participants from IIT Madras, said, "I am really excited to participate in this programme as we get to make an actual product with a budget. This is a unique opportunity, and I am looking forward to my journey here in learning product designing."
Sharing his interest in the programme, Amitendra Singh, a student from IIT Delhi, said, "I have been interested in inventing things since my school days when I had invented something in high school. However, it was on a very amateur level. This is a very new experience for me, a lot of things to learn, and I am very excited about this.
Aditya Kumar, a student from IIT Bombay, said, "Apart from building an invention from scratch, I also aim to enhance my presentation and communication skills through this programme. I am looking forward to interacting with the mentors here and making a lot of new friends."
The programme was run for the first time in India at IITGN in 2018 and again in 2019, under the name Invent@IITGN. This time, it is also being held at IIT Bombay.