"India has been recognised as the 'Pharmacy of the World'. It is now time for India to take the lead in the medical devices sector and become the leader in the manufacturing of affordable, innovative and quality Medical Devices". This was stated by Dr Mansukh Mandaviya, Union Minister for Health & Family Welfare and Chemicals & Fertilizers, here today during his inaugural address at India's first medical technology expo, 'India MedTech Expo 2023', in Gandhinagar, Gujarat on the sidelines of the G20 Health Ministers' Meeting. He was also joined by Bhupendrabhai Patel, Chief Minister of Gujarat; Dr V K Paul, Member (Health), NITI Aayog and Shri Rushikesh Patel, Minister of Health, Government of Gujarat.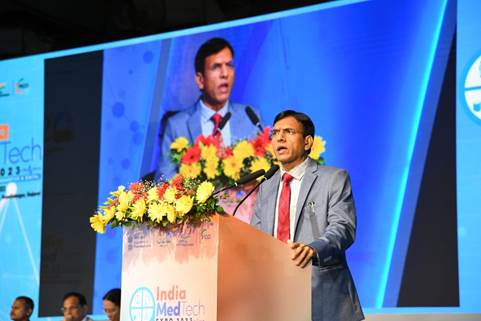 Dr Mandaviya said that "MedTech Expo 2023 draws inspiration from the Hon'ble Prime Minister's vision of making India Aatmanirbhar. It will be a unique, all-encompassing platform to showcase the strength and potential of the Indian Medical Devices ecosystem". He also underlined that India is the fastest-growing medical devices market amongst the emerging markets.
The Union Minister said that "our goal is to become self-reliant in the medical device sector and reduce our import dependency which also perfectly aligns with our vision of Aatmanirbhar Bharat, and "Make in India, Make for the World". FDI up to 100% under the automatic route is permitted for the manufacturing of medical devices.". He stated that "for the medical devices sector in India, the Government under the able leadership of Hon'ble Prime Minister has undertaken various steps by easing many rules and regulations, focusing on ease of doing business, technological advancements and simplifying investment mechanisms etc".
Highlighting the new initiatives taken by the Union Government under this sector, Dr Mandaviya said that "besides the National Medical Device Policy 2023, the Government has recently launched the the Export-Promotion Council for Medical Devices and a scheme for Assistance of the Medical Device Cluster to promote infrastructure development and strengthen the testing facilities for medical devices in the country". He stated that the Production Linked Incentive (PLI) scheme was launched for promoting domestic manufacturing of Medical Devices with total financial outlay of Rs. 3,420 crore for four target segments of medical devices. "We have also come up with the "Promotion of Medical Devices Parks" scheme with a total financial outlay of Rs. 400 crores for the creation of Common Infrastructure Facilities, to give a boost to manufacturing and promote innovation, research and product development", he further stated. He also informed that under the scheme, final approval for financial assistance of Rs. 100 crores each has been given to the States of Uttar Pradesh, Tamil Nadu, Madhya Pradesh and Himachal Pradesh.
Dr Mandaviya said that the start-up ecosystem in India's medical devices sector is diverse and vibrant, with 250+ organisations engaged in innovations, for addressing important health issues. "Just within 2-3 months of COVID-19, the world had witnessed and recognised India's efforts and support given to other nations by providing medical diagnostic kits, ventilators, Rapid Antigen Test kits, RT-/PCR kits, IR thermometers, PPE kits & N-95 masks at a very fast pace", he stated. The Union Health Minister also informed that the government is investing hugely in building better infrastructure which will increase the demand for smarter technology and advanced medical devices.
Dr V K Paul highlighted that "the Indian MedTech sector has accelerated its growth and excellence and it is now at an inflection point to move in the direction of exponential growth in terms of quantity, quality & its reach globally". He stated that the Union Government's policies are geared towards creating an ecosystem in the country geared towards making India atmanirbhar in the health sector. He stated that the newly launched PLI (Production Linked Incentive) scheme of the Union Government has helped in both promoting the production of APIs (Active Pharmaceutical Ingredients) for manufacturing pharmaceuticals as well as for manufacturing medical devices.
Raj Kumar, Chief Secretary, Govt of Gujarat; S J Haider, Additional Chief Secretary, Industries, Govt. of Gujarat; Kamlesh Kumar Pant, Chairman, National Pharmaceutical Pricing Authority (NPPA); Tushar Sharma, Chair, FICCI (Federation of Indian Chambers of Commerce and Industry) Medical Device Committee; Suresh Vazirani, Managing Director, Transasia Biomedicals and other delegates from the Government, Industrywere present.