Ranveer Singh will be replacing Shah Rukh Khan as the new Don for the third part of filmmaker Farhan Akhtar's popular action franchise "Don".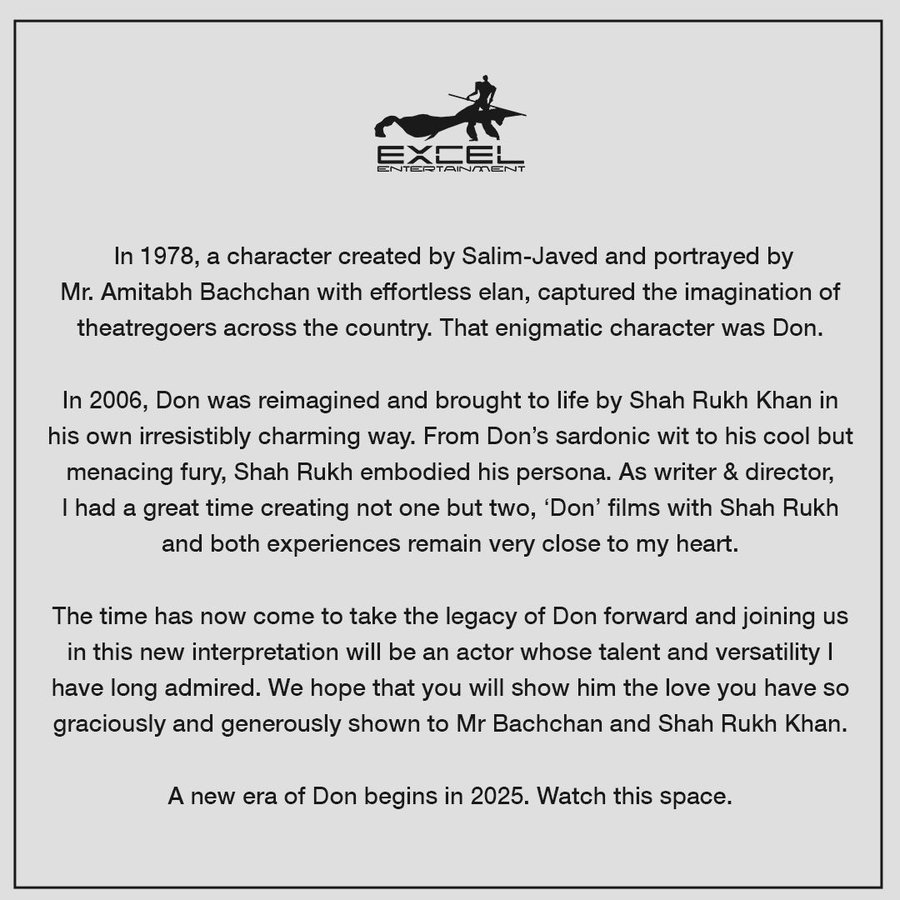 Actor-filmmaker-producer Farhan Akhtar has released the first look of Don 3 and captioned, "A New Era Begins."
Several reports had also earlier suggested that actor Shah Rukh Khan will not be returning for the third instalment of the franchise and actor Ranveer Singh will be seen replacing him in 'Don 3'. Yesterday, Farhan too officially announced that the third part of his popular action franchise 'Don' will star a new actor. In his post, Farhan said he is set to take the film series forward in a new interpretation with "an actor whose talent and versatility" he has long admired. It will release some time in 2025.
"We hope that you will show him the love you have so graciously and generously shown to Mr Bachchan and Shah Rukh Khan. A new era of Don begins in 2025," the director-writer had said in a statement.
He had directed the first two parts featuring Shah Rukh Khan, of which first was released in 2006 and the while the second installment came out in 2011.
The 2006 film starred Shah Rukh Khan, Priyanka Chopra, Boman Irani, Isha Koppikar in prominent roles and had also won Best Asian Film at the Neuchatel International Fantastic Film Festival.
The franchise started after Farhan and Ritesh Sidhwani's banner Excel Entertainment bought the rights of the Amitabh Bachchan-starrer 1978 film of the same name, written by veteran writer duo Javed Akhtar and Salim Khan. Earlier in May, In May, Ritesh had said the third installment was in the "scripting" stage. "Till my partner (Farhan) finishes writing it, we won't do anything. Right now, he is in the phase of completing the script… Even all of us are eagerly waiting to see 'Don'," the producer told.