On June 22, US President Joe Biden and First Lady Jill Biden hosted an official State dinner for Prime Minister Narendra Modi. Among the menu items was the 'Patel Red Blend 2019', a red wine from Patel Winery in Napa Valley, owned by Raj Patel, an NRI who hails from Gujarat.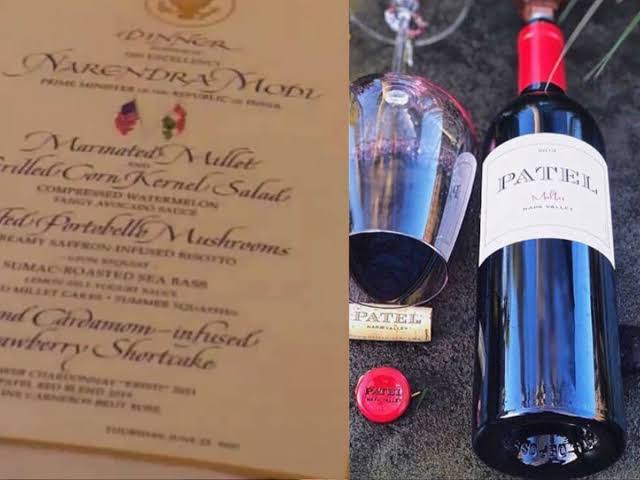 While many items with Indian roots were included in the menu, the wine with its Indian connection hit maximum headlines. It is being reported that Patel, who is originally from Gujarat introduced a wine brand that stands out from the rest – the Patel Red Blend 2019 and that's why it was served at the official US State dinner for PM Modi, hosted by President Joe Biden and First Lady Jill Biden.
The Patel Red Blend brand is owned by Patel Winery, based in Napa Valley and founded by Raj Patel, who was born in Gujarat.
During Prime Minister Narendra Modi's three-day visit to the United States, the White House hosted a special vegetarian dinner in his honour. Chef Nina Curtis curated dishes such as Tangy Avocado Sauce, Stuffed Portobello Mushrooms, Creamy Saffron-infused Risotto, Sumac-roasted Sea Bass (Upon Request), Lemon-Dill Yoghurt Sauce, Crisped Millet Cakes, Summer Squashes, Rose and Cardamom-infused Strawberry Shortcake, accompanied by wines including Stone Tower Chardonnay "Kristi" 2021, Patel Red Blend 2019, and Domain Carneros Brut Rosé.
The guest list included notable Indian-origin personalities such as Sundar Pichai, Satya Nadella, Nancy Pelosi, Mukesh and Nita Ambani, and Anand Mahindra, among others.
According to the Patel Winery website, the Patel Red Blend 2019 is a combination of Merlot and Cabernet Sauvignon grapes, resulting in a rich red wine. Priced at $75 or INR 6,146 per bottle, it exhibits characteristics of red fruits like Bing cherry and red plum.
Patel Red Blend is a product of the Patel family's winery in Napa Valley and is owned by Raj Patel, who moved to California in 1972 with his family. Raj Patel studied at the University of California, Davis, and later interned at Robert Mondavi Winery, which sparked his interest in fine wines. In 2007, he founded Patel Wines.The Wine Advocate, a renowned wine critic, reviewed the Indian-origin fine wine and awarded it a score of 95 out of 100. Subsequent vintages of the Patel Red Blend have received scores of 94 or above from The Wine Advocate.
Over time, Raj Patel has expanded the Patel Winery's offerings to include limited-production wines such as Coombsville Cabernet Sauvignon, Atlas Peak Malbec, and Rutherford Sauvignon Blanc. Currently, the Patel Winery produces 1000 cases per year, specializing in Bordeaux varietal wines from the Napa Valley region.