Hashtag Arrest RaviNair is trending on Twitter after journalist Ravi Nair posted fake images of Prime Minister Narendra Modi in an unfavourable light, prompting a barrage of criticism and calls for legal action. Ravi Nair works as a journalist with the online news portal The Wire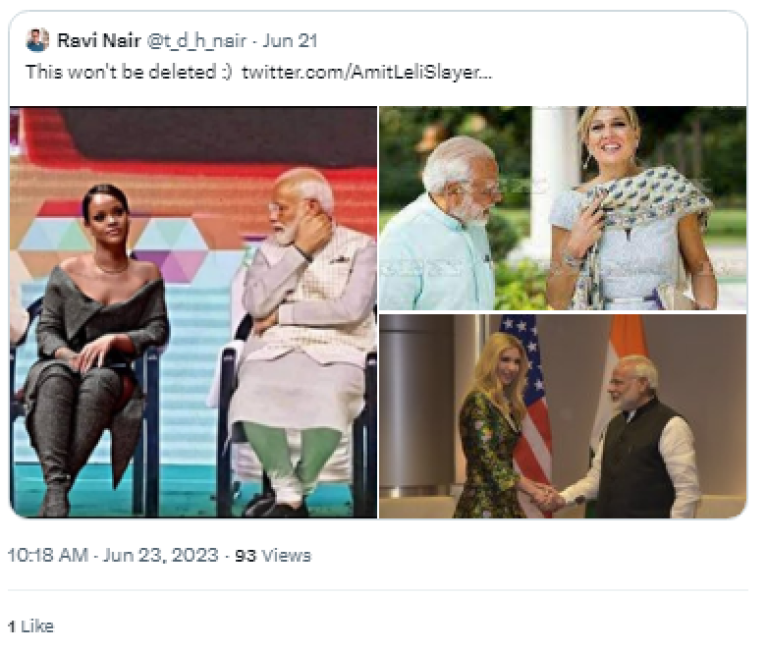 Twitter users expressed their strong disapproval of the post, with many demanding the arrest of Ravi Nair. Among them was Sadhvi Prachi, a leader from the Vishwa Hindu Parishad (VHP), who took to Twitter and stated that "this man with such a dirty mind needs to be immediately arrested."
In response to the backlash, Ravi Nair staunchly defended his actions. He challenged Sadhvi Prachi to provide evidence that the photographs he shared were fake or manipulated. Ravi Nair declared that if the authenticity of the images could be proven, he would delete his tweet and apologize for his mistake. However, his justification failed to appease other Twitter users, who continued to heap scorn on him.
Monica Verma, a PhD holder in International Relations from the Department of International Relations at the South Asian University, questioned whether Ravi Nair could be legally charged for disseminating morphed pictures of the honourable Prime Minister with the intent to defame him. Verma urged authorities to take appropriate action against Ravi Nair and called on others to report his behaviour as well.
In an attempt to draw attention to the matter, one Twitter user directly tagged the Delhi Police, stating that Ravi Nair was sharing photoshopped pictures to defame Prime Minister Narendra Modi. The user appealed for swift and stern action to be taken.
In a bid to escalate the issue further, one Twitter user tagged Union Home Minister Amit Shah and the Delhi Police, urging them to investigate the matter and take appropriate action against Ravi Nair if the pictures were found to be manipulated, edited, or tampered with, with the intention of insulting and mocking the Prime Minister of India.
The controversy surrounding Ravi Nair's post on Twitter has ignited a fierce debate on social media, with opinions divided on whether his actions should be deemed criminal or protected as free speech. As the situation gains traction, it remains to be seen how authorities will respond to the calls for action against Ravi Nair.