"Centre and States need to continue working in collaborative spirit as was done during the previous surges for COVID-19 prevention and management". This was stated by Dr. Mansukh Mandaviya, Union Minister of Health and Family Welfare as he virtually interacted with State Health Ministers and Principal Secretaries/ Additional Chief Secretaries, here today. The virtual meeting was held in the presence of Dr. Bharati Pravin Pawar, Union Minister of State for Health to review the public health preparedness for containment and management of COVID-19 and progress of national COVID-19 vaccination campaign in view of the recent upsurge in cases in some states.
Union Health Minister advised States to be on the alert and keep all preparedness for COVID19 management. He urged the State Health Ministers to conduct mock drills of all hospital infrastructures on April 10 and 11, 2023 and review the health preparedness with district administrations and health officials on April 8 and 9, 2023. He also urged States to identify emerging hotspots by monitoring trends of ILI/SARI cases and sending sufficient samples for testing of COVID-19 and Influenza; and ramping up whole genome sequencing of positive samples.
It was observed that 23 states/UTs had average tests per million below the national average. Dr. Mandaviya said that irrespective of the new COVID variants, the five-fold strategy of 'Test-Track-Treat-Vaccinate & Adherence to COVID Appropriate Behaviour' continue to remain the tested strategy for COVID management. This would facilitate undertaking of appropriate public health measures, he said. States/UTs were also requested to expeditiously increase the rate of testing from the current rate of 100 tests per million, as one week ending April 7, 2023. They were further advised to increase the share of RT-PCR in tests.
States/UTs were briefed that India has been witnessing a steady increase in COVID-19 cases with average daily cases rising to 4,188 in the week ending April 7, 2023 from 571 in the week ending March 17, 2023; and weekly positivity up to 3.02% in the week ending April 7, 2023. However, 88,503 daily average cases have been reported globally in the same time, with the top five countries contributing 62.6% of global cases in the last one week.
States/UTs were further informed that currently WHO is closely tracking one variant of interest (VOI), XBB.1.5 and six other variants are under monitoring (BQ.1, BA.2.75, CH.1.1, XBB, XBF and XBB.1.16). It was highlighted that while Omicron and its sub-lineages continue to be the predominant variant, most of the assigned variants have little or no significant transmissibility, disease severity or immune escape. The prevalence of XBB.1.16 increased from 21.6% in Feb to 35.8% in March, 2023. However, no evidence of an increase in hospitalization or mortality has been reported.
It was also informed that while India has achieved over 90% coverage of primary vaccination, the coverage of precaution dose is very low. Union Health Minister advised States/UTs to ramp up vaccination of all eligible population, especially of the elderly and vulnerable population group.
It was also observed that eight states are reporting high number of Covid cases in India with 10 or more districts reporting more than 10% positivity in Kerala, Maharashtra and Delhi and over 5 districts reporting more than 5% positivity in the states of Karnataka, Kerala, Maharashtra, Delhi, Himachal Pradesh, Tamil Nadu and Haryana. Dr Mandaviya stressed on the importance of enhancing public awareness campaigns regarding adherence to COVID Appropriate Behaviour. He requested all the State Health Ministers to personally monitor and review the preparedness of all logistics and infrastructure including availability of sufficient designated hospital beds and ensure that there is adequate stock of essential medicines. States were also asked to regularly update their COVID data on the COVID India Portal.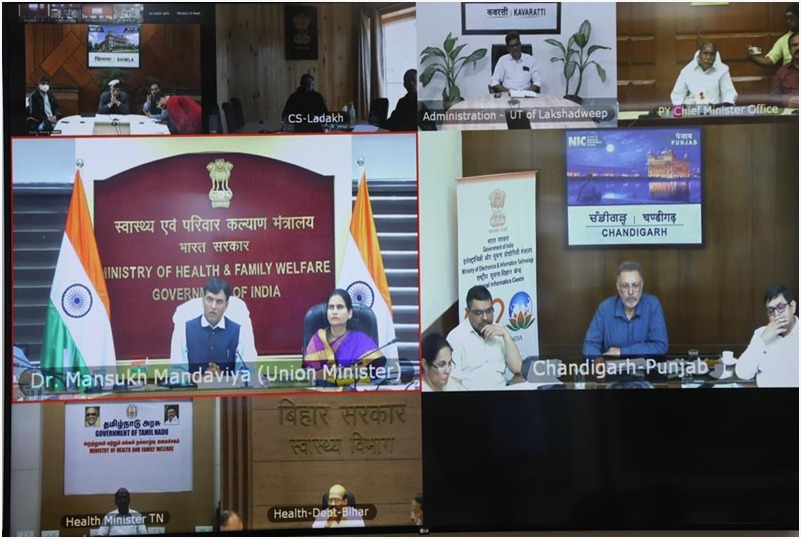 States/UTs were briefed on the global COVID-19 situation and the domestic scenario. They were reminded of the joint advisory issued by the Union Health Ministry and ICMR to all states on March 25, 2023 which calls for a reinvigorated public health response to contain the surge of seasonal Influenza and Covid-19 cases through early detection, isolation, testing and timely management of suspected and confirmed cases to detect and contain outbreaks of new SARS-CoV-2 variants. Union Health Minister requested States/UTs to ensure effective implementation of the same. There was comprehensive and detailed discussion on various aspects of COVID management including ramping up of hospital infrastructure; increased testing.
Dr Bharati Pravin Pawar stressed on the importance of timely preparedness and management of COVID-19. She urged states to implement their share of ECRP-II for revamping health infrastructure on priority. She also asked states to strengthen their monitoring mechanism and be on alert in view of the rise in tourism.
States appreciated the timely review meetings chaired by the Union Health Minister and advisories from the Union Health Ministry. They assured that they will work with the Centre for effective prevention and management of COVID-19. They informed that they are maintaining vigil and are reviewing the present situation. States also assured they will hold mock drill for readiness of hospital infrastructure across both public and private health facilities on April 10 and 11, 2023.
N Rangaswamy, Chief Minister (Puducherry), Dhan Singh Rawat, Health Minister (Uttarakhand), Keshab Mahanta, Health Minister (Assam), Vishwajit Rane, Health Minister (Goa), Banna Gupta, Health Minister (Jharkhand), Prabhuram Choudhury, Health Minister (Madhya Pradesh),Balbir Singh, Health Minister (Punjab),Dr Sapan Ranjan Singh, Health Minister (Manipur), Anil Vij, Health Minister (Haryana), Thiru Ma Subramanian, Health Minister (Tamil Nadu), Dr. (Col.) Dhani Ram Shandil, Health Minister (Himachal Pradesh), Vidadala Rajini, Health Minister (Andhra Pradesh), Thanneeru Harish Rao, Health Minister (Telangana), Rushikesh Patel, Health Minister (Gujarat), Niranjan Pujari, Health Minister (Orissa), Alo Libang, Health Minister (Arunachal Pradesh), Tanaji Sawant, Health Minister (Maharashtra), Mazel Ampareen Lyngdoh, Health Minister (Meghalaya), Saurabh Bharadwaj, Health Minister (Delhi) and senior officials of the ministry were present in the meeting.