In the ongoing HL Cricket League, which was organised on 3rd and 4th December, 2022 at the HL College Heritage Cricket Ground by the HL College Alumni Association, Hidden Brains – a Corporate team reached the finals winning all its group matches and defeating Arvind in the Semifinals. CAIT YI – an Institutional team reached the finals winning all its group matches and defeating AXP in the Semifinals.
A crackling final between the 2 best teams of the tournament who were undefeated till now was played. In the league tournament, SUPPORTED BY Tulsi Tea, team Hidden Brains defeated CAIT YI by 27 runs they batted to their strength and then the bowlers were exceptional.Their captain Aniruddh Gohil was the Man of the Match of the finals.
Karan Trivedi who scored 120 runs in the tournament and Dipen who took 15 wickets in the tournament from Hidden Brains were awarded the Best Batsman and Best Bowler of the Tournament respectively.
The Captain of CAIT YI Chirag Desai was awarded the Man of the tournament for his splendid performance with the bat and ball both, he scored 70 runs and took 17 wickets in the tournament.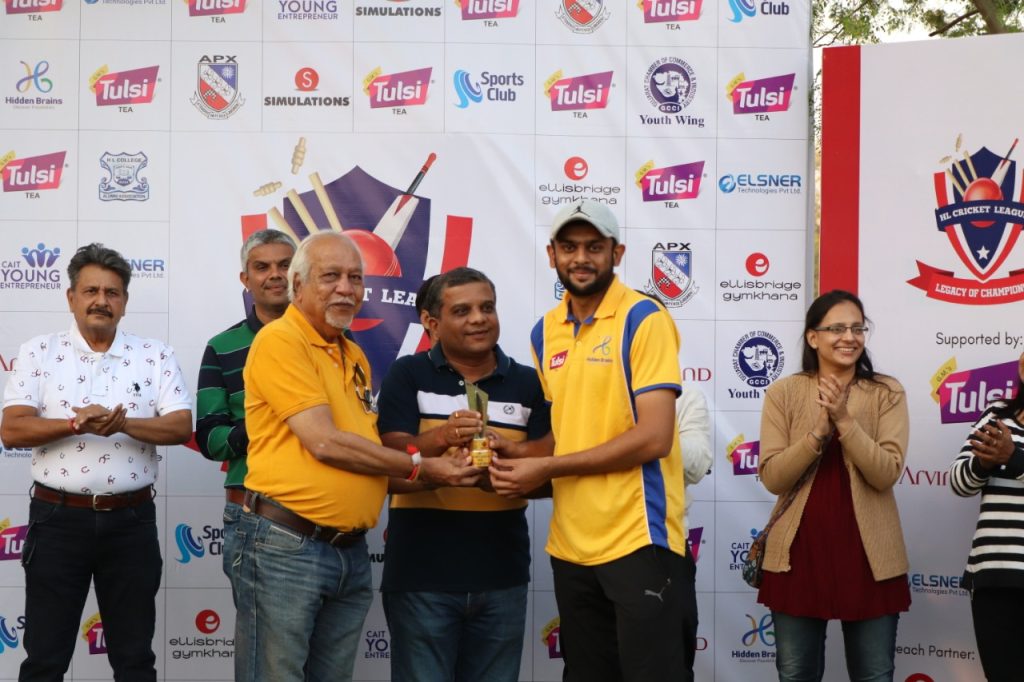 It was an 8 over a side tennis ball tournament consisting of 8 teams, 3 corporates (Arvind, Elsener & Hidden Brains), 3 Institutions (APX, CAIT YI & GCCI Youth Wing) and 2 Clubs (Ellisbridge Gymkhana & Sports Club)
All teams played 2 of their group matches on day 1 and the remaining 1 group match on day 2.
Super Sixes, Fabulous Fours, Wacky Wickets, Nail-biting finishes, One Sided Encounters were the highlight of the HL Cricket League but what stood out was the spirit of the game and fair play shown by all 8 teams is what made HL Cricket League special and in true sense as the tagline suggest 'Legacy of Champions'