Gujarat has long been a BJP stronghold, and the party is aiming for a record-breaking seventh term. Other important parties in the race include Arvind Kejriwal's AAP and the Congress.
The second phase of voting in the high-stakes Gujarat assembly election has concluded, and all eyes are now focused on the exit polls. Voting took place in 93 of the 182 Assembly seats in 14 districts across central Gujarat, including Ahmedabad, Vadodara, and Gandhinagar. The other 89 seats polled on December 1, with results for both phases expected on December 8 after the votes were counted. Chief Minister Bhupendra Patel (Ghatlodia), Patidar leader Hardik Patel (Viramgam), OBC leader Alpesh Thakor (Gandhinagar South), former minister Shankar Chaudhary (Tharad) and Jignesh Mevani (Vadgam) are among the prominent candidates in this phase. While Patel, Thakor, and Chaudhary are BJP candidates, Mevani is a Congress candidate.
Twenty-five million voters, including 12.9 million men and 12.2 million women, are eligible to vote in this phase of the election. Prime Minister Narendra Modi and Union Home Minister Amit Shah will vote in Ahmedabad as well.
The voter turnout in the Gujarat Assembly election was 50.51% until 3 p.m.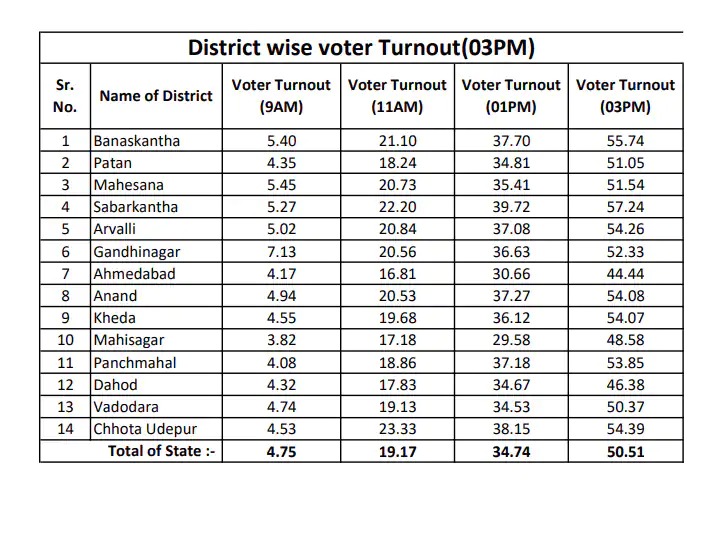 Roadshow is not permitted on the day of voting but Prime Minister Modi and his party are VVIPs, they can do anything and they will be excused, says West Bengal CM Mamata Banerjee
Lt Governor of Delhi Vinai Kumar Saxena and his wife voted in the second phase of Gujarat Assembly elections in Ahmedabad.