Jaguar Land Rover (JLR) India has officially launched the latest iteration of the iconic Range Rover Velar, setting a new benchmark in the world of luxury SUVs. Priced at Rs 94.3 lakh (ex-showroom), the New Range Rover Velar effortlessly combines sophisticated elegance with cutting-edge technology, offering an unmatched driving experience for discerning consumers.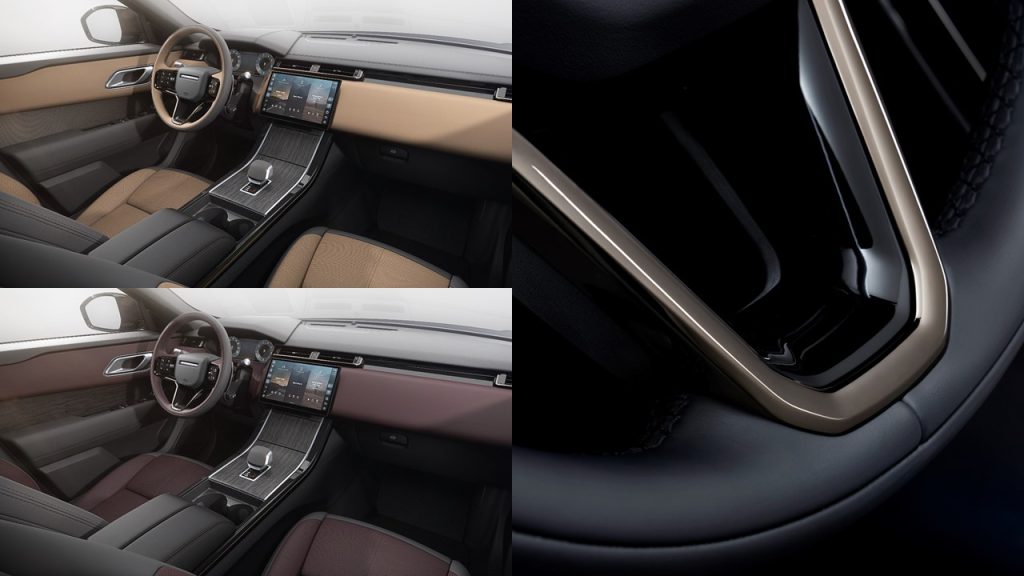 The New Range Rover Velar introduces a bold and reductive design philosophy, exemplifying its commitment to elegance and innovation. Exterior boasts a new grille design, combined with the iconic floating roof, unbroken waistline, and flush (a staple) deployable door handles. The addition of Pixel LED Headlights with jewel-like effect Signature Daytime Running Lights further enhances the vehicle's modern and unified appearance.
At the rear, Range Rover Velar showcases powerful LED taillights with a 3D appearance, and super-red illumination. Design elements, combined with a range of exterior and interior colour options, ensure that customers can personalise their Velar to reflect their unique style.
Rajan Amba, Managing Director, JLR India, expressed his excitement about the launch, stating, "The New Range Rover Velar is a forward-thinking sanctuary with curated and refined elements that make it both intriguing and desirable. It has been carefully crafted for the transforming tastes of our discerning clients and is all set to elevate the bar for luxury travel in India."
Inside the New Range Rover Velar, you'll find a spacious and luxurious cabin designed with the latest technology in mind. The centerpiece of the interior is the 28.95 cm (11.4) floating curved glass touchscreen, which seamlessly integrates controls for various vehicle functions. This user-friendly interface allows for quick and easy access to features like climate control, seating adjustments, and navigation. Pivi Pro next-gen infotainment system, supports wireless connectivity for both Apple CarPlay and Android Auto, ensuring that drivers stay connected on the go. Moreover, the vehicle's software can be updated wirelessly. Covering an impressive 80 percent of the electronic control units (ECUs) means fewer trips to the dealership for updates.
A Seat of Comfort and Wellbeing
New Range Rover Velar goes beyond aesthetics and technology to prioritise passenger comfort and wellbeing. Active Road Noise Cancellation technology reduces interior noise levels for a more serene driving experience.
To ensure a pristine cabin environment, the optional Comfort Pack includes the Cabin Air Purification Plus system, utilizing CO2 Management and PM2.5 Cabin Air Filtration. This system constantly monitors and adjusts the air quality inside the vehicle. Nanoe X technology helps combat pathogens and reduce odours, bacteria, and allergens.
Range Rover Velar also offers Configurable Cabin Lighting with a choice of 30 interior colours, allowing occupants to set the perfect ambiance. The four-zone climate control ensures that every passenger can enjoy their ideal interior temperature.
Performance and Capability
Under the hood, New Range Rover Velar offers two powertrain options. Customers can choose between the 2.0-liter petrol engine delivering 184 kW of power and 365 Nm of torque or the 2.0-liter Ingenium diesel engine producing 150 kW and 430 Nm of torque. These engines provide a perfect blend of power and efficiency for various driving conditions. For enhanced off-road capabilities, Velar is equipped with Terrain Response 2®, which allows drivers to adapt the vehicle settings to different driving environments. Electronic Air Suspension and Adaptive Dynamics ensure a comfortable ride, regardless of road conditions. Furthermore, a suite of camera technologies, including the 3D Surround Camera and ClearSight Ground View, provides drivers with a comprehensive view of their surroundings. This makes off-road manoeuvres safer and more convenient.
Luxury Redefined
New Range Rover Velar represents the modernity of modern luxury in the SUV segment. Its striking design, advanced technology, and commitment to passenger comfort set a new standard in the industry. With the launch of the Velar, Jaguar Land Rover continues to demonstrate its dedication to delivering exceptional vehicles that cater to the evolving preferences of its customers.
Range Rover Product Portfolio in India
Range Rover product lineup in India includes the New Range Rover, Range Rover Sport, New Range Rover Velar, and Range Rover Evoque. A wide range of options to suit the preferences of luxury car enthusiasts across the country. Prices start at Rs 73.07 lakh (ex-showroom) for the Range Rover Evoque, reaching up to Rs 238.87 lakh (ex-showroom) for the flagship New Range Rover.