Opposition's INDIA alliance has decided not to participate in the prime-time debates anchored by 14 television anchors.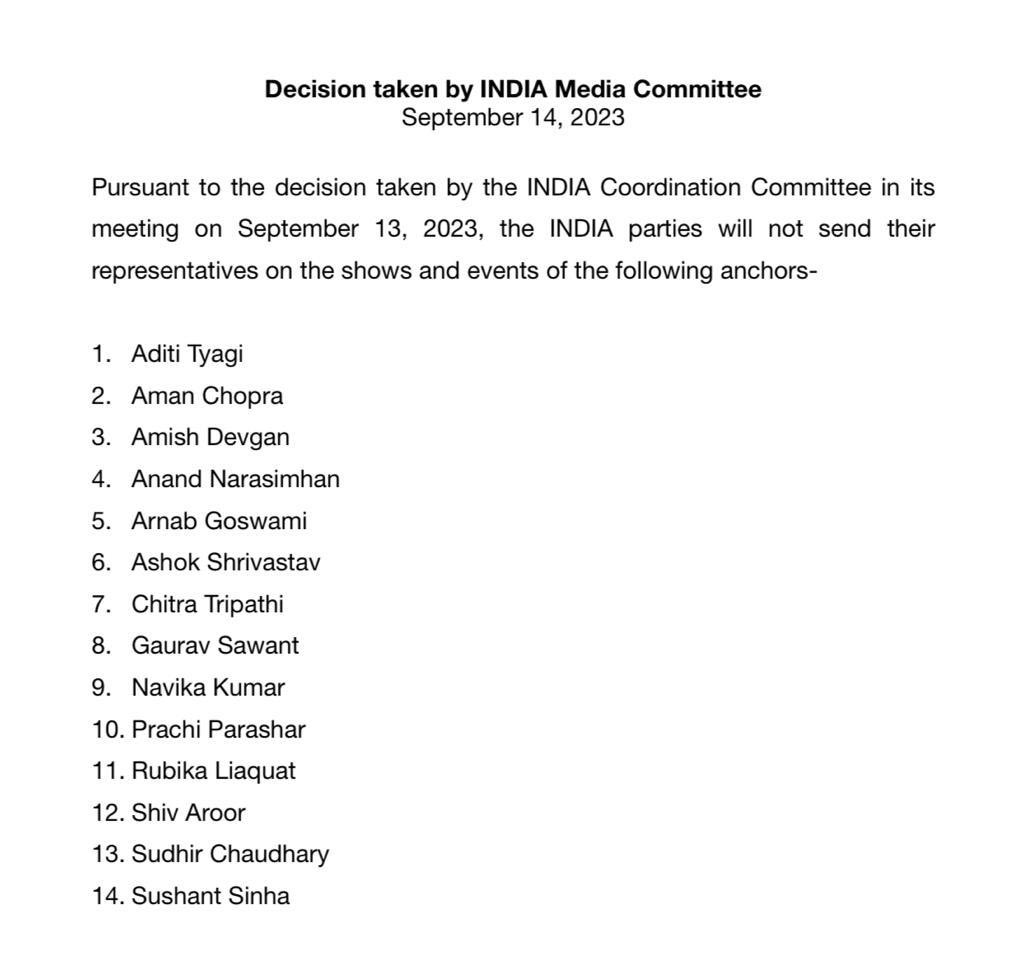 The alliance on Wednesday had decided to stay away from anchors who are seen closer to the ruling BJP.
"Pursuant to the decision taken by the INDIA Coordination Committee in its meeting on September 13, the INDIA parties will not send their representatives on the shows and events of following anchors," said a printed card posted by chief of Congress' media and publicity wing Pawan Khera on X (formerly Twitter).
Aditi Tyagi (Bharat Express), Aman Chopra (News18 India), Amish Devgan (News18 India), Anand Narasimhan (News 18), Arnab Goswami (Republic), Chitra Tripathi (Aaj Tak), Gaurav Sawant (Aaj Tak), Navika Kumar (Times Now/Nav Bharat), Praci Parashar (India News), Rubika Liaquat (Bharat 24), Shiv Aroor (India Today), Sudhir Chudhary (Aaj Tak) and Sushant Sinha (Times Now Nav Bharat).
Aditi Tyagi was the first to comment on the list. In a Hindi post on X, she said "My name comes first in the list of people who ask questions for the country. Tyagi is fearless," she wrote ignoring the fact that the list was prepared in alphabetical order.
Sudhir Chaudhari posted that the 14 journalists who refused 'lick the boot have been included in the list'. "Now the opposition has decided to boycott them. Let's see how the Indian media responds."
Amit Malviya, the head of BJP's IT cell, posted that the list was a badge of honour for the boycotted journalists. "So I.N.D.I.A. alliance has released a list of journalists, who refuse to even bend when the Opposition expected them to crawl. They should wear it as a badge of honour. More power to them… (sic)
Over two dozen opposition parties have formed the Indian National Developmental Inclusive Alliance (INDIA) to challenge the BJP-led National Democratic Alliance(NDA) unitedly in the 2024 Lok Sabha polls.