The Sabarmati Riverfront has become the soul of social and cultural activities in Ahmedabad, Union Home Minister Amit Shah said on Sunday as he virtually launched the 'Akshar' cruise on the river that cuts through the city.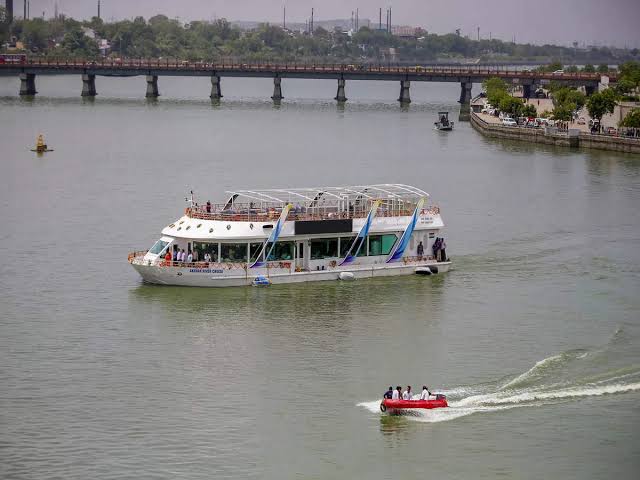 Addressing a gathering through video conference, Shah lauded Prime Minister Narendra Modi, saying when the latter was the chief minister of Gujarat, he took many initiatives which helped in increasing the tourist footfall in the state.
Shah said when he shifted to Ahmedabad in 1978, he never went to see the Sabarmati river until the riverfront was constructed.
The river was then nothing more than a pit of dirty water, he recalled.
"As the then Gujarat chief minister, Prime Minister Modi for the first time imagined a riverfront and planned for it, and it was constructed during his duration (as CM). The riverfront became known not just in Ahmedabad but also across the country and abroad and became a centre of tourism," Shah said.
"It has become a centre of various activities. Walkers take a stroll in the morning, senior citizens in the evening, and children and youth play here. Today, the riverfront has become the soul of social and cultural activities on both sides (of the river) of Ahmedabad," he said.
The 'Akshar River Cruise' on the riverfront will be a new attraction for Ahmedabad, he said.
With two engines and a two-hour drive, the 30-metre-long luxury cruise will help boost tourism with attractions such as live music and tasty vegetarian and Jain food, he said.
The river cruise is equipped with 180 life safety jackets, a fire sprinkler system and emergency rescue boats and has been designed keeping the safety of people in mind, Shah said.
Shah said after becoming the chief minister of Gujarat, Modi gave priority to tourism and worked to make the state a centre of tourism in the country through various initiatives.
Modi invested crores of rupees to create an ecosystem to attract lakhs of tourists by connecting pilgrimage centres, borders with improved road connectivity, he said.
"Narendra Bhai developed tourism using his imagination which led to a rise in the number of tourists from India and abroad. Through various initiatives, Modi gave a new shape to Gujarat tourism," Shah said.