Artificial Intelligence (AI) holds enormous potential and opportunities in multiple areas, but human-like AI is still decades away, industry veteran Sunil Parekh said at the ReDi Digital Dialogue 2023 on Friday.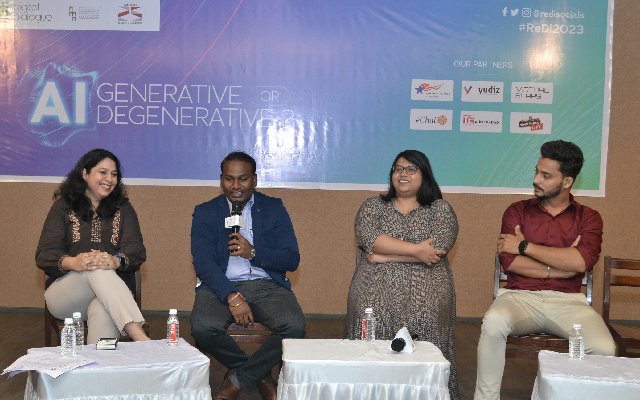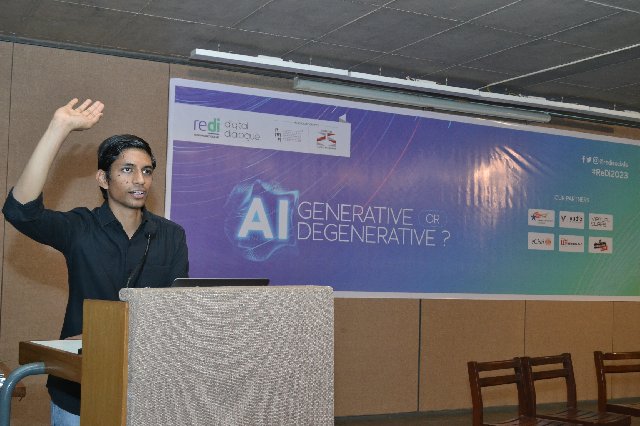 ReDi (Responsibly Digital), a social initiative aimed at promoting responsible digital behaviour, celebrated World Social Media Day on June 30 with the 11th annual edition of ReDi Digital Dialogue. Key thought leaders shared their thoughts at a workshop and panel discussions.
ReDi Digital Dialogue 2023 centred around the theme "AI: Generative or Degenerative?", a reflection of the growing influence of Artificial Intelligence in our lives. "AI has been around for a very long time but it has now been put in everyone's hands with tools like ChatGPT. This has awakened our realisation of AI's immense technological possibilities and it can be used for doing human tasks like passing exams, writing jingles, guiding robots, and much more. But, we also need to understand the risks associated with AI very seriously," Mr Parekh, industry veteran and founding curator of Ahmedabad Global Shapers, said in his keynote address.
He said defence, retail, finance and BFSI, healthcare, education, preventive maintenance, city management, and precision agriculture are some of the areas where AI has enormous opportunities, but noted that the concerns over job losses due to AI are overestimated.Mr Parekh also said that human-like AI is decades away. "Humans have emotions, machines don't. We initiate new things, we reflect, we hope, and we create. We are irrational, machines aren't. We have the sense of good or bad. Machines can never have these. They can only duplicate what we think," he said further.
Explaining the mission of ReDi, its Co-founder Shailesh Goyal, said, "ReDi was established with the vision of making people realise the importance of utilising the power of digital media responsibly. There has been a jump in the use of AI-powered tools, which is why the theme of the event revolves around AI. AI has been integrated into many tools, leading to enhanced levels of creativity and faster delivery across applications."
Sahil Shah, Founder of Netsavvies Media Co. and Hungrito, set the tone for the event with an interactive workshop on "60 AI Tools in Under 90 Minutes", providing the participants with hands-on experience with various AI applications.
Two engaging panel discussions were also organised as a part of the ReDi Digital Dialogue. The first, titled "Navigating in The Emerging AI Landscape," featured Kamal Bansal, Managing Director of GVFL, Aashesh Shaah, CEO of Fusion Informatics, and Jaydip Binniwale, Co-founder and CTO of Downtown Club as esteemed panellists. Amit Saluja, Senior Director and Centre Head at Gandhinagar CoE at NASSCOM moderated the session.
The second panel discussion, "The Future of AI & Its Impact on Future Jobs & Organisations," brought together M Nagarajan, Mehsana district collector, Ayaz Saiyed, Head of AI/ML at Yudiz Solutions, Deeksha Devendra, Co-founder of Virtual Slaps, and Jyoti Sudhir, Co-founder and Chief Strategist of InventIndia, to share their perspectives on the implications of AI on the job market and organisations. Kumar Manish, Co-founder ReDi, moderated the discussion.
The ReDi Digital Dialogue witnessed active participation from communication specialists, academicians, social media experts, brands, marketing professionals, influencers, social media marketers, students, and other attendees.
The event provided an invaluable platform for industry experts, thought leaders and stakeholders to discuss the responsible use of AI and its impact on society. With 100+ speakers, 2,500+ participants, and over 20 million digital impressions, in the first 10 editions of the Digital Dialogue, ReDi remains committed to promoting digital literacy and responsible digital behaviour to ensure a positive and inclusive digital future.