A young engineer who stole a vehicle has been caught in Ahmedabad. The youth, who became unemployed after his studies, started stealing vehicles for fun. In four months, the youth had stolen around 17 vehicles from different posh areas of the city. The youth used to steal vehicles that were keyed on the road or parked on the side of the road. He was preparing to sell the stolen vehicle but before that the police arrested the accused.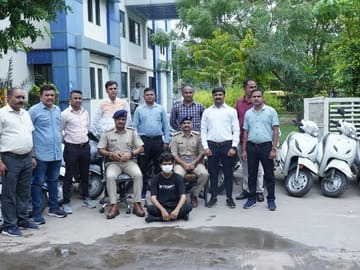 Five separate cases of vehicle theft were reported in Naranpura area. The common denominator in all the vehicle thefts was that all were Activas and keyed in when stolen. When the investigation was started by the police, the presence of the same youth was seen at the time of different thefts and only one youth was stealing the vehicle, so the police started searching for that youth. Naranpura police arrested vehicle thief Umang Vachani based on a tip-off.
Police interrogated Umang and found out that his age is only 22 years. The accused has studied aeronautics engineering. The accused was unemployed after studies so started stealing vehicles for fun. After stealing the vehicle, he used to steal the vehicle in different shopping complexes or malls of Naranpura.
The accused had stolen 17 different assets. In Naranpura, Wadaj, Ghatlodia, Vastrapur, Navarangpura, Gujarat University and Satellite police stations, the theft of stolen vehicles has been solved.