Every Indian cricket fan will always remember the image of Kapil Dev carrying the World Cup trophy at Lord's. A generation of Indians were motivated to take up cricket seriously by that moment of success. Today is the 40th anniversary of the Indian cricket team, captained by Kapil Dev, defying the odds to win the Cricket World Cup by overcoming the formidable West Indies at Lord's Cricket Ground. The victory against West Indies was a source of great pride for India, and it helped to boost the popularity of cricket in the country.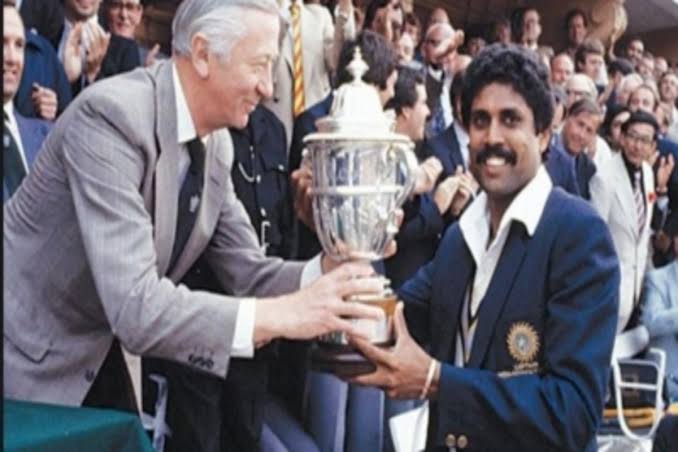 The 1983 World Cup victory is still regarded as one of India's greatest sporting accomplishments, and cricket is currently one of the most popular sports in the nation. The triumph served as a turning point in Indian cricket as well. It served to alter how the world saw India and demonstrated to the rest of the world that it was a force to be reckoned with.
Most Indian cricketers arrived in England expecting the World Cup to be merely a stopover because they did not expect to advance beyond the league stage. They had planned a vacation to the United States, where they would play a series of friendly matches, anticipating an early exit. Krishnamachari Srikkanth, the newlywed opener, had even planned his honeymoon! All plans had to be scrapped as a result of the outcomes achieved by the players on the pitch. Srikkanth had to cancel his tickets as well and later joked that Kapil owed him money for the inconvenience.
India may have won the World Cup in 1983, but only captain Kapil Dev believed at the start of the tournament that the team could go all the way, according to former all-rounder Kirti Azad. India were considered underdogs at the start of the tournament, but they went on to win the cup by defeating the all-conquering West Indies squad in the final. Azad admitted that he joked with teammate Mohinder Amarnath about taking a month off.
The 1983 Cricket World Cup final was a story of ultimate courage and fight back. The West Indies, who were the defending champions, had restricted India to just 183 runs. However, India fought back brilliantly, and Kapil Dev's brilliant catch to dismiss Viv Richards triggered a batting collapse that saw the West Indies bowled out for just 140 runs.
The match was evenly poised at 57-2 when Richards was dismissed. Richards was in great form, and his dismissal seemed to give the West Indies the upper hand. However, Kapil Dev ran backward and took a brilliant catch to dismiss Richards. This was a turning point in the match, as it led to a batting collapse that saw the West Indies bowled out for just 140 runs.
India's victory was a triumph of spirit and determination. They were not considered favorites going into the tournament, but they played with great skill and heart.