Prabhanjan J of Tamil Nadu and Bora Varun Chakravarthi of Andhra Pradesh have emerged as the toppers of NEET UG 2023 exams and they have scored 720/720 marks (99.999901 percentile).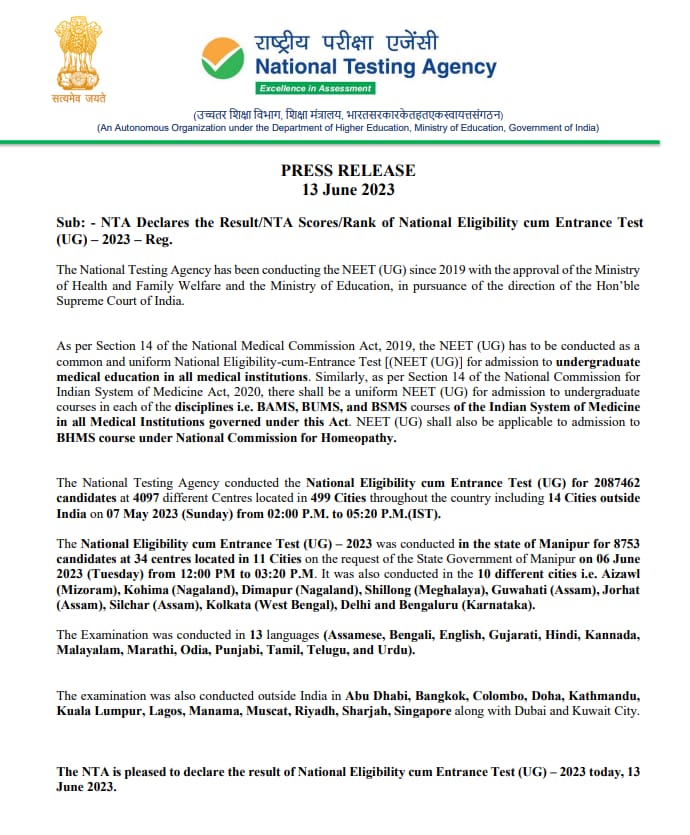 This year, the NEET cut-off 2023 for unreserved category students has soared from 715-117 in NEET UG last year to 720-137 in NEET UG 2023 result 2023. The NEET cut-off 2023 for candidates of reserved categories including Scheduled Castes (SC), Scheduled Tribes (ST) and Other Backward Classes (OBC) have increased from 116-93 last year to 136-107 in NTA NEET UG 2023
Important Update | NEET UG Result Declared | Result Overview & Analysis
Total Registered Candidates 20,87,462
Total Appeared Candidates 20,38,596
Total Qualified candidates:11,45,976
Qualifying Cutoff Score
General(UR)- 137
OBC/SC/ST- 107
The highest number of students qualified from Uttar Pradesh (139961), followed by Maharashtra (131008).
Qualified students in different categories
OBC- 5,25,194
SC- 1,53,674
ST- 56,381
General-3,12,405
EWS-98,322
Rank-1 & 2 are scoring 720 score
Rank-3 scoring 716 score
Rank-4 to Rank-20 all are scoring 715 score
How to check NEET UG Results 2023
STEP 1: To download the NEET 2023 results, candidates must visit the official website – results.nic.in.
STEP 2: Now, click on the link that reads, "Score Card NEET (UG) 2023".
STEP 3: Fill in the required details and then click on "submit" or "login".
STEP 4: After logging in automatically, NEET 2023 results will be displayed on the screen.
STEP 5: Download and print the NEET 2023 results for future reference.