In a remarkable feat of engineering, two final year B.Tech students, Hemaanka Sainadh Meegada and Krish Meena under the guidance of Dr. Saurabh Yadav, Department of Mechanical Engineering, have successfully designed and developed a SCARA robot with stepper motors. This robot has the potential to revolutionize industrial processes by streamlining the pick and place operations, 3D printing, and other everyday activities.
The robot is based on the SCARA (Selective Compliance Assembly Robot Arm) architecture, which is widely used in industrial applications due to its superior accuracy, speed, and flexibility. The students have used high-quality stepper motors in the robot, which offer precise control over movement and enable the robot to perform a wide range of tasks with great efficiency.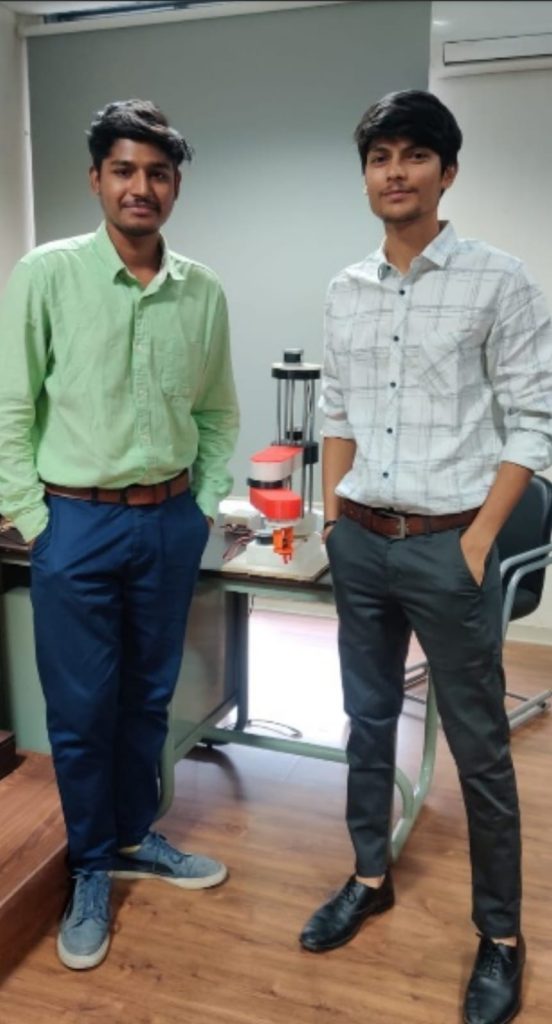 One of the most impressive features of the robot is its pick and place capabilities. With its powerful links and precise motion control, the robot can easily pick up and move objects of various shapes and sizes, making it ideal for use in manufacturing facilities, warehouses, and other industrial settings. The robot's ability to perform 3D printing is also a major advantage, as it can quickly and accurately create complex geometries with ease.
Developing this robot required a lot of hard work and dedication from Hemaanka Sainadh Meegada and Krish Meena. They spent countless hours researching, designing, and building the robot using 3D printing technology, overcoming numerous technical challenges along the way. Their efforts have paid off in the form of a highly capable and efficient machine that can make a significant impact in the field of industrial automation.
The development of this SCARA robot is a testament to the ingenuity and skill of the students at our institute. It is also a shining example of how innovative technologies can be used to solve real-world problems and improve efficiency in various industries. We hope that this project will inspire other students to take up similar challenges and continue to push the boundaries of engineering and technology.