The Centre issued revised guidelines for COVID-19 on Sunday amid a sudden surge in cases. The development comes mere days after the Health Ministry wrote to several state governments asking them to follow a five-fold strategy of test, track, treat and vaccinations to counter the rising caseload.
"Antibiotics should not be used unless there is clinical suspicion of bacterial infection. The possibility of coinfection of COVID-19 with other endemic infections must be considered. Administration of Systemic and Cortico steroids during mild disease is not recommended," the revised guidelines released by the COVID-19 National Task Force added.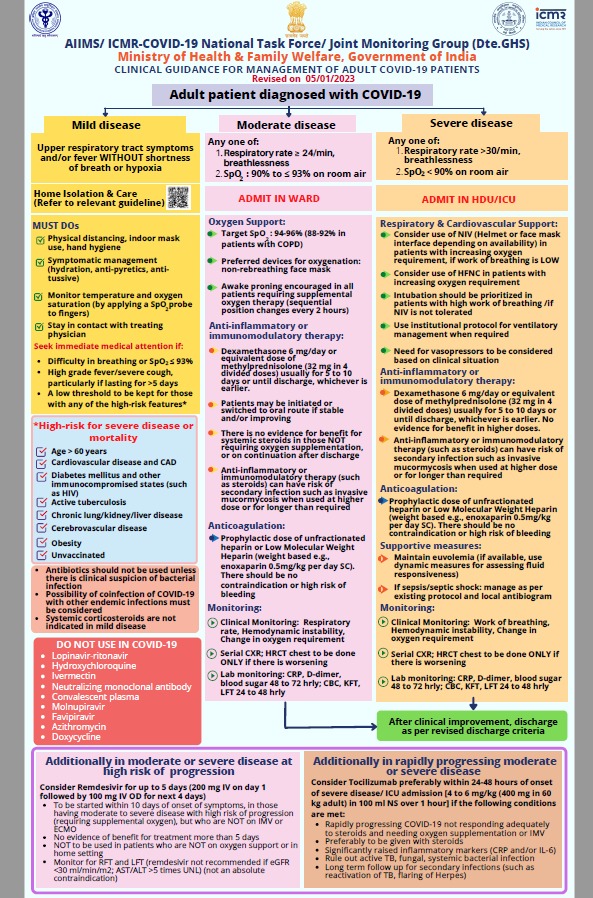 The revised guidelines list certain drugs that are not be used in COVID-19 – including hydroxychloroquine, ivermectin, molnupiravir and favipiravir.
The guidelines also urges patients to 'consider Remdesivir for up to 5 days) in moderate or severe cases that have a high risk of progression.
"Consider Tocilizumab preferably within 24-48 hours of onset of severe disease or ICU admission," the guidelines urge for those with rapidly progressing moderate or severe disease. It lists certain criterion that have to be met before this step is taken.
"Physical distancing, indoor mask use, hand hygiene, Symptomatic management (hydration, anti-pyretics, antitussive) Monitor temperature and oxygen saturation (by applying a Sp probe to fingers) Stay in contact with treating physician," the official communique urged in the case of patients with mild symptoms.