The ambitious Mumbai-Ahmedabad high-speed rail project of Indian Railways is well underway. According to reports, 21 kilometres of the 508.17 kilometres of bullet train tracks will be built underground, with the remainder elevated. One of the underground tunnel's entry points will be in Vikhroli (owned by Godrej), Mumbai.
The 21-kilometre-long tunnel will be built 7 kilometres beneath the sea using the Tunnel Boring Machine (TBM) and the New Austrian Tunnelling Method (NATMA) and will connect BKC and Shilphata in Maharashtra. The 7-kilometre-long undersea single-tube tunnel at Thane Creek will be India's first of its kind, accommodating both up and down tracks. Construction will begin on February 9, 2023.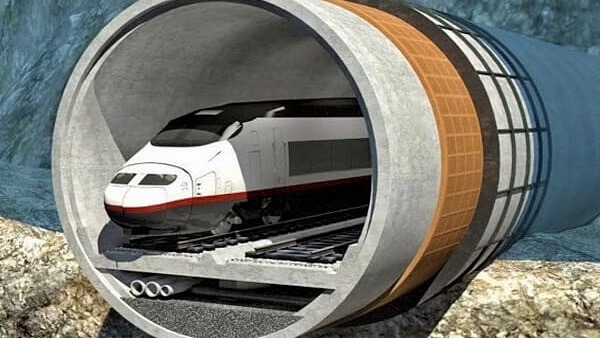 The tunnel will be 25-65 metres deep from ground level, with the deepest construction point being 114 metres below Parsik Hill in Shilphata, Maharashtra. Furthermore, the underground tunnel will protect the bird sanctuary and mangroves surrounding Thane Creek.
In 2017, India's Prime Minister and his Japanese counterpart, Shinzo Abe, launched India's first bullet train project between Ahmedabad and Mumbai. The bullet train will travel at a top speed of 350 km/h and cover a distance of 508 km in three hours. According to reports, Japan is lending India $88,000 crore for the project at a low-interest rate of 0.1%.
The National High-Speed Rail Corporation Limited (NHSRCL) has already solicited technical bids for the 21-kilometre tunnel, 7 kilometres of which will be beneath the sea. The massive project is expected to be completed by 2026.