One of the senior-most attorneys for the Gujarat High Court, Krishnakant Vakharia, passed away on Sunday in Ahmedabad. The 92-year-old Vakharia had mentored a number of distinguished lawyers, including Solicitor General Tushar Mehta.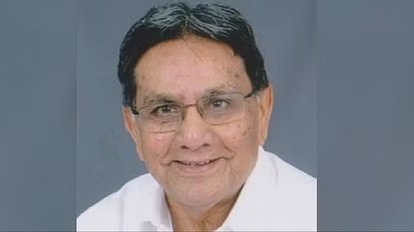 With Vakharia passing, Mehta said he has lost his "guru and a mentor and a father figure who always treated me as his own son".
"His legal training is imbibed in me and all those who worked with him are either eminent lawyers or eminent judges now in their own right. Shri Vakharia would continue to live in all of us till the last of his colleagues practising law continue to practise", said Mehta.
"My 10-year-long association with him at his office is long enough to stand the testimony to the fact that he was more than just a senior to a young lawyer. I owe him much more than just a tribute. He was a man of values, virtues and righteousness", Mehta said in a statement. He remained with Vakharia till 2004. Mehta recalled how Vakharia was not only a jurist "in his own right" but read voraciously on other non-legal subjects.
"He taught all his juniors that a lawyer who merely knows the law is like a mason constructing a building. On the other hand, a lawyer knowing other subjects like history, sociology, economics, etc is equated with an architect constructing a masterpiece," the SG said, adding, "He will continue to inspire me".
Among those that Vakharia mentored were Justice Jayant Patel, the former Acting Chief Justice of the Gujarat High Court, and Additional Solicitor General Devang Vyas. The Supreme Court upheld Justice RA Mehta's appointment in 2013, despite the objections of the state government, but Mehta chose not to serve as Gujarat's Lokayukta. Justice RH Shukla of the HC was also a protégé of Vakharia's.
Gujarat High Court Advocates' Association President Pruthviraj Jadeja said, "Vakharia saheb was a legend of Gujarat High Court bar. Ever since I started practising law at Gujarat High Court, I found him to be a very meticulous and hardworking lawyer who always helped junior advocates. He was very down to earth and courteous," Jadeja said.
Vakharia, an Amreli native, had a complex personality. He held the position of Chairman of the Gujarat Congress' Legal Cell for a considerable period of time in addition to his designation as a senior advocate at the HC. In addition, he served as the powerful Gujarati diaspora organization's president for the longest period of time, the Vishwa Gujarati Samaj.
Paying his tributes, Gujarat Congress spokesperson Manish Doshi said, "Vakharia saheb was a Congress stalwart who performed his duties as Chairman of the Legal Cell for long. He had once contested for the Assembly elections. The Congress has lost a stalwart today."
Doshi added that he was a helpful person. "Also, the most important factor of his personality was his networking skills. The credit to establish Vishwa Gujarati Samaj at the world level goes to Vakharia saheb," he said.
SG Tushar Mehta hosted a celebration in Ahmedabad in November 2021 to honour the senior advocate. Gujarat Governor Acharya Devvrat, sitting Supreme Court Justice MR Shah, and nearly all of Gujarat's prominent legal figures attended the event.
"Most become legends after their lifetime. There are a few who become legends in their lifetime. Vakharia saheb is such a person who has become a legend in his lifetime… He not only practised law but also developed a strong bar. When we entered (the legal field), we were not lawyers. Vakharia saheb moulded us into lawyers," Mehta had then said.
Vakharia was involved in student politics, labour union activities under the leadership of the Congress-affiliated Indian National Trade Union Congress (INTUC), social work, and had a successful legal practise in his prime, according to senior HC advocate Nirupam Nanavati at the same event. He recalled that Vakharia's office had appointed senior attorneys like Mehta as well as four high court judges.
Wife Lilaben, son Mehul, who owns a law firm, and daughters Avani and Bindu survive Vakharia.