Around 1 p.m. on Sunday, an accident involving seven family members travelling on the Mumbai-Ahmedabad Highway close to Kasa in the Palghar district. The family was driving from Nalasopara to Bhilad, Gujarat. Three of the passengers died, and the other two are being treated at a private hospital in Vapi for their severe injuries. On the same highway where industrialist Cyrus Mistry died in an accident four months ago, this year's first fatal accident has occurred.
"The car was in the middle lane of the highway, just behind a contained truck," an eye witness reported. The car's driver attempted to pass the truck from the left side, but he was unable to see another container truck in the way. He struck the other truck from behind as he sped up to pass. Three of the passengers passed away on the spot.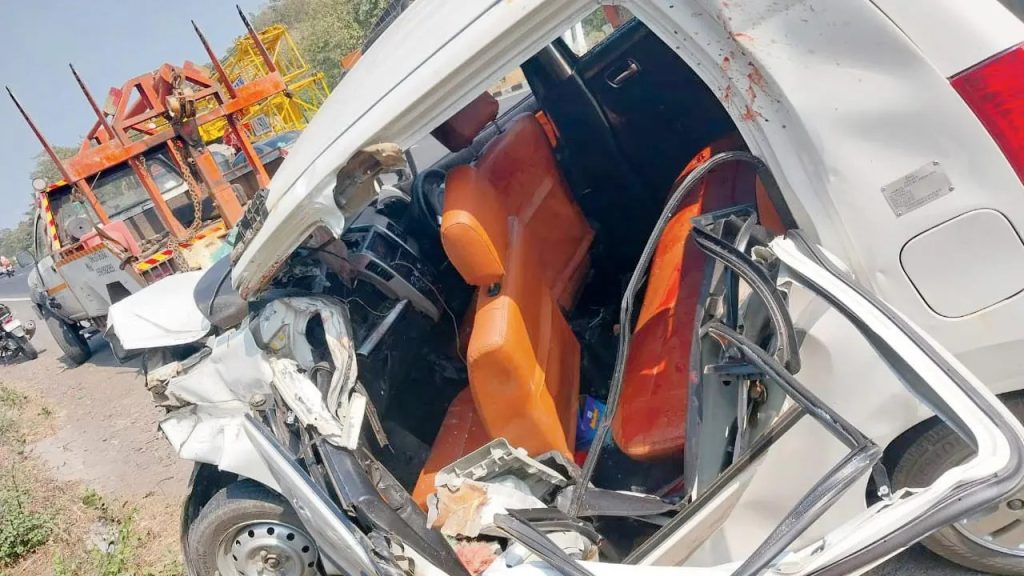 "Even after the collision, the container truck did not stop. The eye witness continued, "The police are now searching for the truck.
Narottam Chhana Rathod, 65, his son Ketan Rathod, 32, and his granddaughter Aarvi Deepesh Rathod, 1, have been named as the deceased. Ketan's brother Deepesh Rathod, his wife Tejal, their mother Madhu Rathod, 58, and their toddler daughter Snehal are among those hurt. Aarvi's father Deepansh was driving the car.
According to sources, the injured were given first aid at Kasa Sub-District Hospital and sent on to Vedanta Hospital in Palghar, but their family members took them to a private hospital in Vapi.
Balasaheb Patil, the superintendent of police in Palghar said, "They are all from the same family and live in Nalasopara. They were travelling to Gujarat's Bhilad. At first glance, it appears that the driver lost control of the car and rear-ended a truck on the highway. In addition to the three immediate fatalities, there were four injuries.
"It seems that the car driver was speeding as it rammed into the container truck, which was moving in the same direction, from behind," said Assistant Inspector Shrikant Shinde, in charge of Kasa Police Station.
The deceased's bodies are kept here, according to Dr. Rajesh Jha, the hospital's medical director. The deceased's post-mortem examination has not yet been done. We believe the elderly man's death was caused by head trauma. The infant's body had numerous lacerated wounds.
"While another woman (Tejal) suffered multiple fractures, the car's driver and his mother both suffered body abrasions. According to Dr. Jha, The girl (Snehal) sustained blunt trauma in the collision.