Indian Institute of Technology Gandhinagar (IITGN) hosted an engaging panel discussion and interactive session on "India as a Driver of Global Growth" on September 28, 2022.
An exciting line-up of international speakers from diverse fields, including Mr Glenn Carle,retired Central Intelligence Agency (CIA) Officer and former US Deputy National Intelligence Officer; Mr Christopher Roper Schell, US Congressional Candidate 2020 and partner at Fair Observer Intelligence; Prof Atul Singh, Founder, CEO; Editor-in-Chief of Fair Observer, ex-IPS officer, Visiting Professor at IITGN; Prof Neeldhara Misra, Smt Amba and Sri V S Sastry Chair Associate Professor, Computer Science and Engineering at IITGN; and Mr Sunil Parekh, Founding Curator at AGS, an initiative of the World Economic Forum, Geneva, and Member of FICCI National Executive Council; discussed various aspects of the changing global scenario and what are the challenges and opportunities in front of India to gain a stronghold in the world economy.
Mr Glenn Carle threw some light on how China, despite being one of the world's powerful countries and having significant growth in technological sectors, is losing its strength due to various reasons, including shrinking a labour force despite imposing greater controls at every level. Later in his remarks, Mr Glenn said, "What is happening in Ukraine and what China is doing is threatening the world order. But India's model and the American response to it will be a global phenomenon. The challenges for India and the US are not only China, but the nature of the society and the existential challenge to the global order. India is rising rapidly, and the nature of its response to the global threats will decide its growth." Sharing some historical references of the American and Chinese models, the global economic crisis of the 90s and 2007-08, and the current inflation and recession in the world economies due to the Covid pandemic and the Russia-Ukraine war, Prof Atul Singh explained India's position in the global context and said, "The bright spots in the current world economy are few. So, after independence, India now has another chance to bend the arc of destiny to our will. We have realised that ease of doing business is important for the country's growth. We have made a lot of infrastructural development and policy level changes, which will aid the country's growth story."
Highlighting some of the drivers of the Indian economy and its global growth, Mr Sunil Parekh said, "Even with a relatively dull global environment at global level, the chances are high that India will sail through these times with around 7.5% growth rate mainly relying on its domestic economy market, which is the main driver, aided by government expenditure and private investments.
In addition to these, in the last decade, we have seen a slew of reforms in several areas, which are now beginning to bear fruits even during the harsh winds of the global slowdown. The time is right for India. It is the only real alternative to China if a country wants to scale up in manufacturing or services. These leaps are going to drive us and also to be a force to drive global growth in the years to come." He also gave examples of some of the reforms that have taken good shape in recent years, including the introduction of single tax GST, large fintech revolution, inclusive financing, massive growth in digital transactions aided by mobile based payments even in remote parts of the country, humongous expansion of infrastructure, mobile network, healthcare, education, promotion of renewable energy, and so on.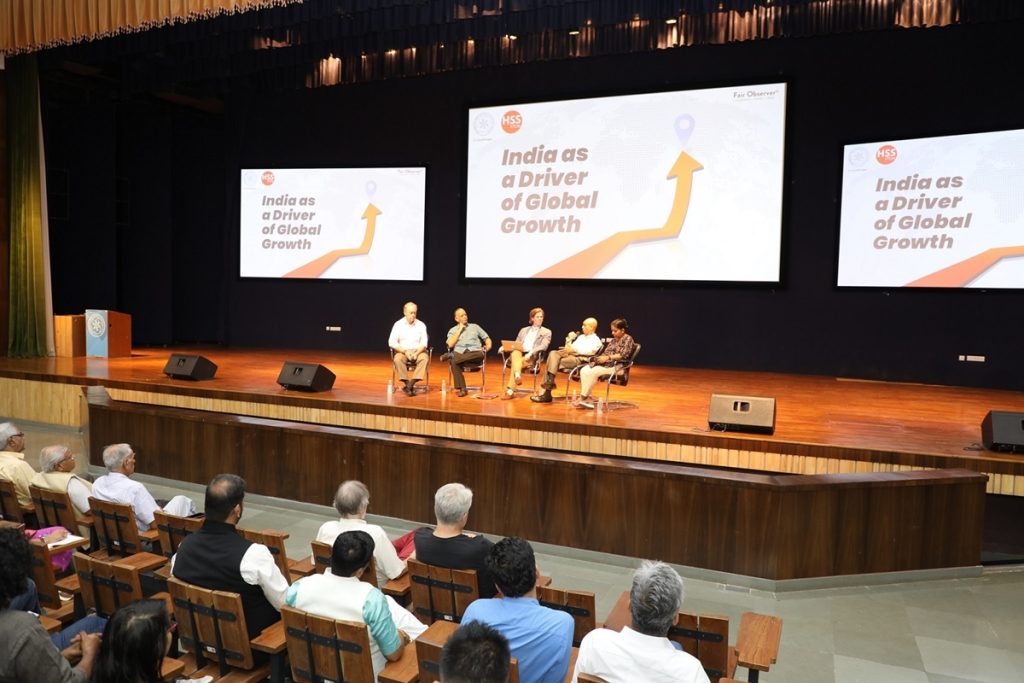 Talking about the startup boom, the age of Indian Unicorns and the challenges that need to be addressed, Prof Neeldhara Misra said, "It is very much true that India has come a long way in the last couple of decades with regard to the growth of start-ups and unicorns. It has grown substantially after the economic reforms of the mid-90s. Today, when algorithms drive our lives, it's clearly an industry to watch out for. In fact, even during the Covid pandemic,when China cracked down on a lot of companies that offered online services, India was encouraging such companies, and their digitised services helped people in many ways. But as India is a land of contrast, there are also many challenges to pay attention to, like inequity, the privacy of digital data, and so on. If we are able to address them, by investing, recognising and prioritising education, generating more interest in STEM fields, and supporting fundamental research, I think we will be able to balance our growth and be adriver to global growth."
Mr Christopher Roper Schell, who was moderating the session, and the panellists alsodiscussed the concerns and challenges that can hinder India's pace of growth. One of the major concerns being global climate change and its impact. Mr Sunil Parekh suggested bringing change in regulation, legislation and global dynamics of climate change to address its challenges. He also said that apart from nature, another concern is our neighbours, which can impact our economy because a peaceful neighbourhood is essential to achieve a good economic growth.