Just a few days before Republic Day, Amazon on Monday received the flak on Twitter for selling products with the Indian National Flag imprinted on them. T-shirts, mugs, and key-chains are among the items sold by the E-commerce company.
Furthermore, chocolate wrappers, which were noticed by Twitteratis, drew criticism, with some claiming that using the Tricolour in such a way was an "insult and a violation of the country's flag code."
Following the insult to the Indian flag, netizens called for an immediate 'boycott' of the products.
As per the country's flag code, "The flag shall not be used as a portion of costume or uniform of any description. It shall not be embroidered or printed upon cushions, handkerchiefs, napkins or boxes."
Many hashtags like #Amazon_Insults_National_Flag and #Amazoninsultsnationalflag are trending on Twitter. There are hundreds of tweets being posted with these hashtags. A user wrote," So many freedom fighters gave their lives for independence and today in the name of fashion our national flag got insulted by companies like Amazon which is so shameful for every Indian and it feels so bad that no one is talking to stop these things."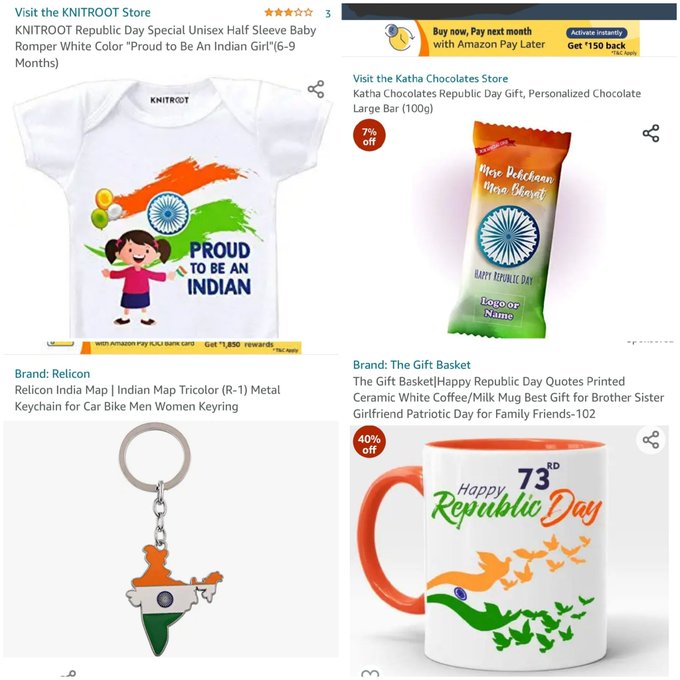 While the other wrote," Amazon insulting our national flag. They must also withdraw all products that offend us. The government should take legal action against them because they are only concerned with making money and not with the welfare of our country, which is extremely disgraceful."
This is not the first time Amazon has attempted to mint money by insulting the tricolour. Previously, Amazon's US website sold shoes and metal hoops for shoelaces that resembled the Indian tricolour. Doormats resembling the Indian tricolour were also available on the company's Canadian website.
There was massive outrage on both instances, however, the Indian government had called on the E-Commerce giant to respect 'Indian sensibilities and feelings' in case of the Candian branch.
"Amazon India is committed to respecting Indian laws and customs. To the extent that these items offered by a third-party seller in Canada offended Indian sensibilities, Amazon regrets the same. At no time did we intend or mean to offend Indian sentiments," Amazon India vice president Amit Agarwal had said in a statement back then. Immediately thereafter, the products were dropped from the website.