As a part of the lecture series under the Indian Knowledge Systems (IKS) elective course, the Indian Institute of Technology Gandhinagar (IITGN) is going to hold two online lectures, 'Sweeter than Honey: The Advent and Rise of Classical Telugu Literature' and 'Conquest of the World: Krishnadevaraya's Amuktamalyada'. Distinguished scholar, translator, and musician Dr Srinivas Reddy will deliver these talks on January 20 & 21, 2022, respectively, from 5:05 to 6 pm (IST).
In his first lecture, Dr Srinivas will elaborate on the first five centuries of classical Telugu literature, from Nannaya's landmark Andhra-Mahabharatamu in the 11 th century to Peddana's celebrated Manu Caritramu written at the Vijayanagara court in the 16 th century.
The brief review of poets and texts will focus on the multifaceted process of South Indian vernacularization and its relationship to Sanskrit literary and cultural prestige.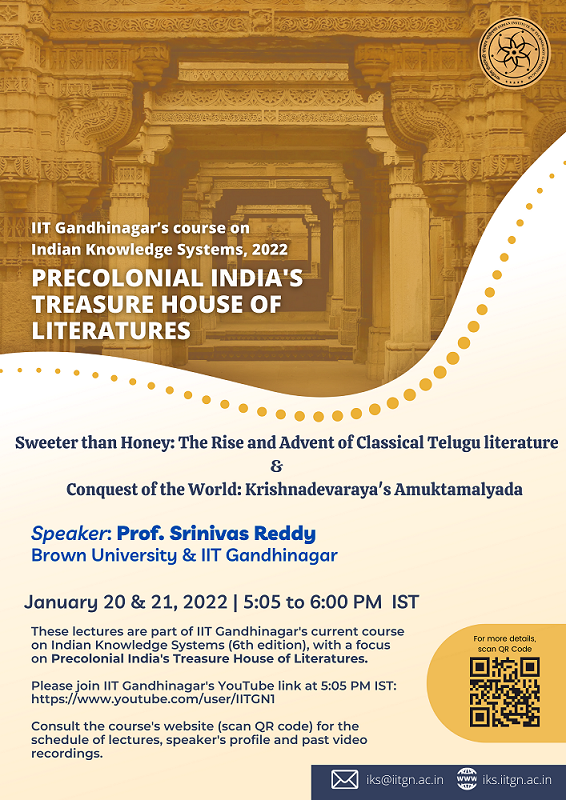 His second talk will take a focused look at one of Telugu literature's most remarkable texts: the Amuktamalyada of the 16 th century Vijayanagara monarch Krishnadevaraya. This unique text, written by a king of Karnataka in ornate classical Telugu about a female Tamil saint, brings together several themes relating to vernacular literature, courtly power, and religious devotion.
Dr Srinivas Reddy studied classical South Asian languages and literature at UC Berkeley and currently teaches at Brown University and IITGN. He is also a concert sitarist and studied in the traditional guru-shishya parampara with Pandit Partha Chatterjee, a senior disciple of the late sitar maestro Pandit Nikhil Banerjee of the Maihar Gharana.
Dr Srinivas has also authored some notable books, including Raya: Krishnadevaraya of Vijayanagara (2020), Meghadutam: The Cloud Message (2017), Malavikagnimitram: The Dancer and the King (2015), and Amuktamalyada: Giver of the Worn Garland (2010).
This is the sixth edition of the Introduction to Indian Knowledge Systems elective course, being held online on the theme 'Precolonial India's Treasure House of Literatures'. The course is open to students and anyone interested in India's knowledge systems and cultural heritage. They can join the course for free by registering online at: http://iks.iitgn.ac.in/. All lectures will be live- streamed on IITGN's YouTube channel.