While there are currently no plans to begin seaplane service from Ahmedabad's Riverfront to Kevadia, the state government has requested that the central government begin seaplane service in six locations and provide Gujarat with two seaplanes.
C-Plane service to the Statue of Unity has been requested from the Sabarmati Riverfront. The Gujarat government has requested two seaplanes from the center
Purnesh Modi, Gujarat's State Civil Aviation Minister, stated that the Center and the state government have provided seaplane facilities at Shetrunji Dam, Saputara Lake, Mehsana Dharoi Dam, and Ukai Dam in Surat near the Ahmedabad Riverfront, Kevadia, and Palitana. This has been resolved.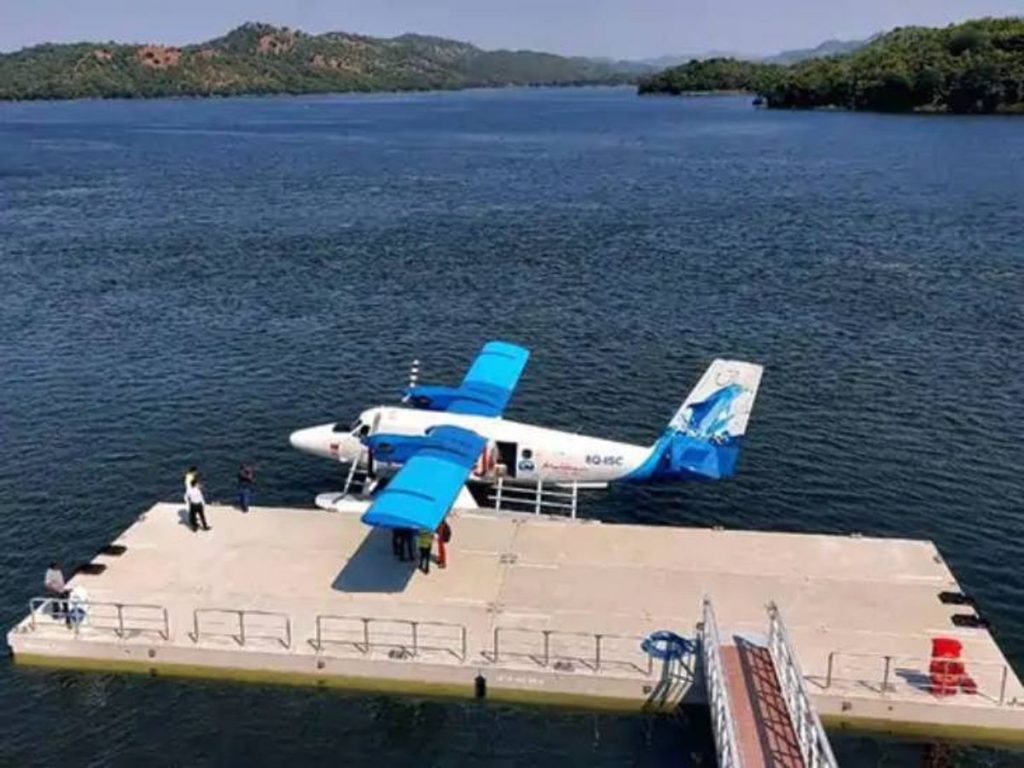 The state's first sea-plane facility was started from the Ahmedabad riverfront, but since the sea-plane went for repairs, there is currently no sea-plane in Gujarat, so the Gujarat government has requested two sea-planes from the Sabarmati riverfront for the Statue of Unity.
The Center has been asked for permission to start two evening flight facilities.
Other cities in the state will benefit from aviation services as well. A proposal has been made to the Center for the allotment of land for the quick start of Deesa Air Strip in order to provide the citizens of North Gujarat with the benefit of aviation services with other cities.
Under the Udan project, a new cold storage facility has also been proposed to provide export facilities for vegetables and fruits. In addition, Keshod airstrip with taxi-link for connection of aviation park to provide facility to citizens for Greenfield Airport of Rajkot has been introduced in the centre to immediately solve the problem of parking facility under flight service.
The government's new buy-a-plane centre will demand 120 million dollars. Vijay Rupani stated in a letter to Civil Aviation Department in charge Bhupinder cudasamae Union eviyesanamantri Jyotiraditya Scindia buy seaplane Gujarat demanded Rs 120 crore, but also resulted in a change of government now is to reassert the new government .
Purnesh Modi, the state civil aviation minister, says he will try to get a quick decision on the demand for seaplanes. The Airports Authority of India decided last year to build water aerodromes for seaplanes at the Sabarmati Riverfront, Kevadia, Dharoi Dam, and Tapi in Gujarat. A seaplane landing requires 800 to 900 metres of water space.
Before the Vibrant Summit, attractions will be launched. The state tourism agency and the civil aviation department are collaborating on a project that is nearing completion.
According to senior state government officials, the Airports Authority of India and other central government organisations have given their support for the process. Before the Vibrant Summit, which begins in January, all of these attractions will be revealed.
The state government spent Rs 191 crore in 2019 on the purchase of 650 Bombardier Challenger aircraft. For the first 20 years, the dignitaries' facilities was served by Beechcraft SuperKing aircraft. These planes will be turned into air ambulances in the near future. This has received all required clearances.